Faith leaders help secure a net zero emissions target for the UK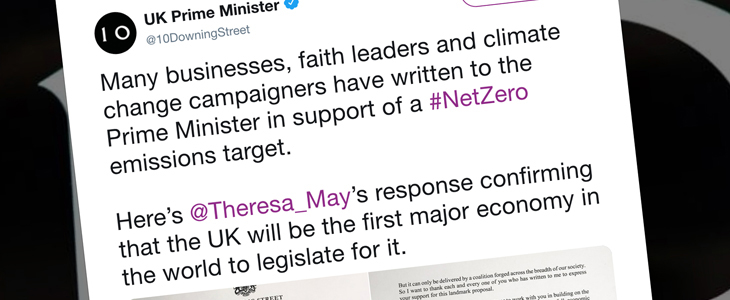 On 12th June 2019, Prime Minister Teresa May announced that the UK would become the first major economy to legislate for a net zero emissions target.
In her tweet announcing the commitment , No. 10 said "Many businesses, faith leaders and climate change campaigners have written to the Prime Minister in support of a #NetZero emissions target"
Among other correspondence, this referred back to a letter published in the Telegraph on 3rd May jointly signed by leaders of many faiths, calling on the Prime Minister to legislate for net zero emissions.
In that letter, signed by Bishop John Arnold, Bishop Nicholas Holtam, Paul Parker, Rabbi Dr Deborah Kahn-Harris, and Fazlun Khalid, and many others, the faith leaders came together to call on Teresa May to legislate for net zero emissions by 2045, saying:
"The Government must take the opportunity created by yesterday's report from the Committee on Climate Change to commit itself to eliminating our country's contribution to global temperature rises.
The urgency and scale of action required necessitates a legally binding target of net zero emissions by 2045. Such a target demands a cross-governmental approach, and one that does not rely on offsets or outsourcing of carbon emissions to poorer nations – the very countries that are being hit hardest by climate change, despite having contributed least to the problem.
We readily recognise that this means changing our lifestyles and behaviours. Indeed, we welcome the benefits that will follow, including cleaner air and warmer homes.
Our country's faith communities have already begun to embrace these changes, with thousands of places of worship powered by renewable energy, and families committing to live simply and sustainably.
We now urge our politicians to show leadership of the magnitude demanded by the challenge that we face – and encourage them to consider the extraordinary legacy they could leave."