Faiths 4 Climate Justice: "Killing the planet is against our religions"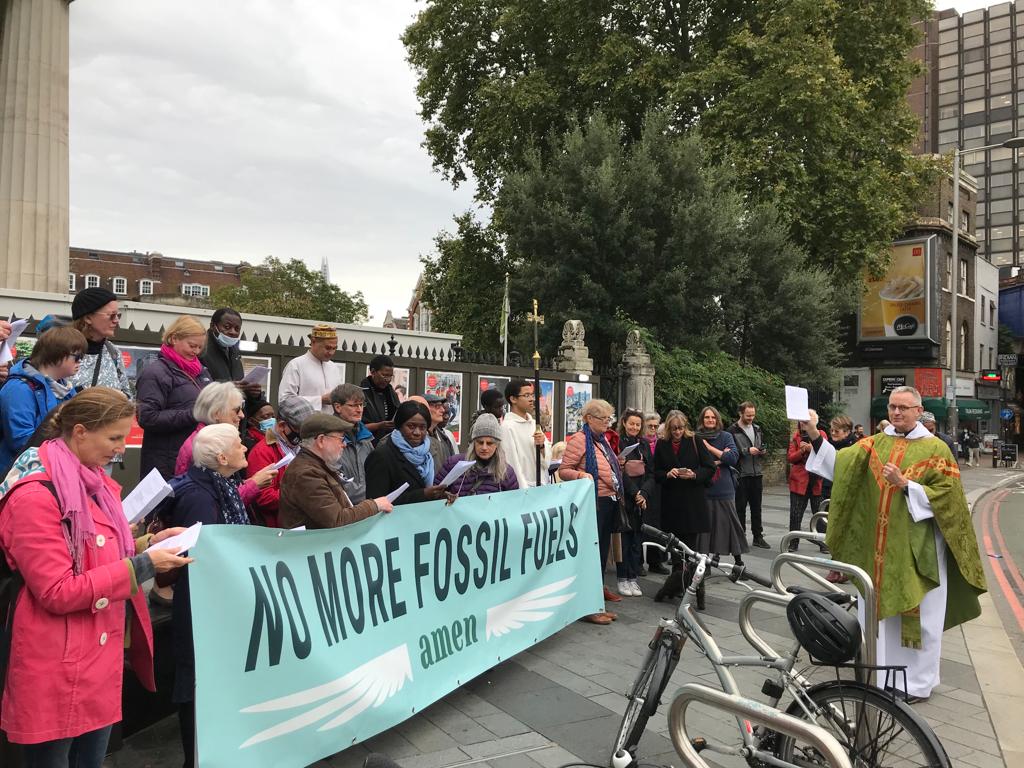 Two weeks before COP26, grassroots religious communities demand "compassionate, loving, just" climate commitments by governments and financial institutions.
On Monday, 18 October, an interfaith group in London marched to the Prime Minister's residence at 10 Downing Street to present demands and religious petitions calling for climate justice before COP26, the crucial UN climate talks happening in Glasgow from 31 October to 12 November. UK faith leaders from Christian, Muslim, Jewish, Hindu and Buddhist communities carried banners and signs asking for ambitious and urgent leadership from Boris Johnson on the climate crisis.
Faith for the Climate joined Christian Aid, CAFOD, Tearfund, Islamic Relief, WorldVision and the Scottish Catholic International Aid Fund (SCIAF) in this action as part of Faiths 4 Climate Justice, a collection of more than 470 faith-inspired actions in more than 41 countries around the world on 17 and 18 October.
The hand-in to 10 Downing Street was led by Avnish Thakrar from Hindu Climate Action, Imam Emad Choudhury from the Bahu Trust UK, Rabbi Jonathan Wittenberg from Masorti Judaism, Olivia Fuchs from the Eco Dharma Network, and Bishop Olivia Graham from the Church of England.
Faiths 4 Climate Justice started soon after daybreak on an island off the coast of Fiji. The Rev. James Bhagwan of the Pacific Council of Churches and religious youth stood in rising seas that now submerge the island at high tide, holding a sign that said, "For the sake of all beings: no more fossil fuels." The action in Fiji was then joined by those in Asia and the Pacific, Africa, Europe, North America and South America.
Together, grassroots people of faith called for an end to new fossil fuel projects and deforestation, a massive commitment to green jobs, and payments from wealthy countries to address losses and damages experienced by those most impacted by climate change. Faiths 4 Climate Justice was organised by the GreenFaith International Network, a global, multi-faith alliance which includes Faith for the Climate as the UK partner-founder.
Faith for the Climate's Chair, Canon Giles Goddard, led his congregation at St John's Waterloo in unfurling a banner – "No more fossil fuels. Amen." Members of St John's processed from St Andrews Short Street, past the Young Vic and Old Vic theatres and Waterloo Station towards St John's, singing hymns about the need for justice and care for Creation.
Banners with similar messages were hoisted on cathedrals, churches, temples, and mosques in Greater Manchester, Leeds, Wakefield, Glasgow and many other parts of the UK. This was a way of sounding the alarm at the unfolding climate crisis. Other actions included the release of a groundbreaking call from Muslim umbrella organisations in the UK and Ireland for climate justice.
"No religious tradition says that we should destroy the planet," said Giles. "Yet this is exactly what governments, financial institutions, and major corporations are either doing or allowing – after knowing for years that fossil fuels cause climate change. It's deeply unjust and wrong."
Meanwhile, multi-faith, grassroots activists in Lagos, Nigeria protested oil companies' illegal, heavily-polluting gas flaring. Outside the Paris headquarters of Total Energies, the French multinational oil company, a multi-faith group called on the company to end its support for its East Africa pipeline projects. In New York City, Jewish youth activists and interfaith allies blockaded the entrance to the headquarters of BlackRock, the world's largest asset manager, which invests billions of dollars in oil, gas, and deforestation projects. At over 20 events across Latin America, religious groups urged governments to end deforestation and protect the rights of Indigenous communities.
In Jakarta, Indonesia, the largest mosque in Southeast Asia unfurled a banner across the street from the national capital complex calling on the government to end coal production. The adjacent Catholic cathedral and a nearby church along with Muhammadiyah Headquarter responded with banners calling for an end to deforestation and a surge in renewable energy development.
Religious leaders in Australia held a multi-faith prayer service outside the local office of Prime Minister Scott Morrison, unfurling a large banner that said, "Scott Morrison: Protect Creation – Bold Climate Action Before 2030."
"We're telling our government to stop supporting the fossil fuel industry against the needs of our children and their children," said Thea Ormerod of Australian Religious Response to Climate Change.
The worldwide action gave voice to a set of demands developed by grassroots people of faith which has surpassed many of the calls made by politicians, business leaders, and formal religious authorities in many parts of the world. Over 200 high-level faith leaders and 50 religious groups representing more than 50 million members have signed onto these demands.
"These demands represent the ethical criteria by which COP26 and any response to climate change must be measured," said Shanon Shah, Director of Faith for the Climate. "They are necessarily ambitious, and they represent the commitment to compassion, love and justice at the heart of every faith on the planet."