Faiths contribute to historic climate election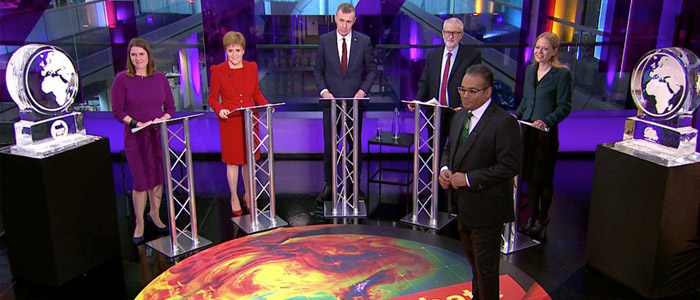 At the start of November, faith-based organisations came together to sign a letter to all party leaders, calling on whoever forms the next government to accelerate efforts to achieve net-zero carbon emissions by five years to 2045, phase out diesel and petrol cars by 2030 instead of 2040, and devote at least 5% of all government spending to the climate and the restoration of the UK's natural environment.
The letter, coordinated by the Climate Coalition, was covered in the Guardian and carried 37 charity signatures, including from Tearfund, Islamic Relief, British Quakers, Green Christian and Cafod (the Catholic Agency for Overseas Development).
Later in November, Faith groups prominently supported the demand for a live debate with party leaders on climate and nature, broadcast by Channel 4 on Thursday 28 November 2019. The petition, spearheaded by Possible , was signed by faith groups including Islamic Relief, Tearfund, Green Christian, Sikh Climate Action, St John's Waterloo, Jamyang Buddhist Centre, and Faith for the Climate.
People of faith have also been instrumental in organising climate-themed hustings at places of worship all around the country, including in churches, mosques, synagogues. A live spreadsheet of these events is available online – there's still time to find and join a husting near you in the lead up to election day on 12 December, and more information on climate hustings is available online.
With the support of the British Quakers, Faith for the Climate hosted an afternoon training workshop on 2nd December with training organisation Hope for the Future, equipping Muslim, Jewish, Buddhist, Christian, Quaker and Brahma Kumari participants, enabling us all to engage our new MPs on climate change, as soon as they are elected.
Significantly, according to Hope for the Future, MPs of all political parties are keen to hear from local people of faith and local faith organisations on issues of climate change. In the run up to the COP26 in Glasgow next year, Faith for the Climate, British Quakers and all FFTC members are encouraging people of faith at the grassroots to get to know their new elected representatives, and to speak up with local MPs and Councillors on climate change throughout 2020, so that we can ensure that the UK really is an international leader, and that COP26 leaves the most positive legacy possible.