Insure Our Future: Anna Lewis explains how faith communities are asking financial institutions to stop funding fossil fuels
In this special blog, which was written ahead of our recent (July 2023 ) network gathering, Anna Lewis talks about the Insure our Future campaign. Anna works for the Quakers UK on campaigning and advocacy for climate and economic justice.
Most adults in the UK will probably have taken out an insurance policy at some point – on their car or their home, for travel or for extra healthcare; we're familiar with the idea of paying a small fee so that, should disaster strike, we can claim funds to cover the financial burden.
However, although there have been some recent high-profile campaigns on climate finance, these have focused on pensions and banks. Most of us don't realise that insurance also has a role to play in climate finance.
I didn't either, until in my role as Campaigns Coordinator for Quakers in Britain I met members of the campaign group Insure Our Future, who are trying to make insurance part of the urgent shift to renewable energy.
We know scientists are agreed that, if we want a good chance of staying below 1.5°C of warming, we cannot plan any new fossil fuel extraction. And yet new fossil fuel projects continue to be proposed. Those of us who are concerned about the climate must therefore look to every avenue we can to stop those projects being built – and insurance could be a highly influential avenue.
Businesses that create new fossil fuel projects need insurance for the same reasons people do: to keep them safe from catastrophic risks. Without insurance, most new fossil fuel projects can't go ahead.
What's more, energy insurance is a relatively concentrated industry. A small number of insurers cover a lot of the world's needs. By changing the insurance that's available through those insurers, we could have a big impact on the energy sector.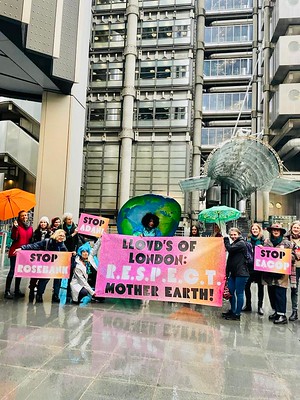 How can we change the world's biggest insurer?
Around 25-40% of the global energy sector (most of which is fossil fuels) is covered by just one marketplace. The marketplace is called Lloyd's of London, and it's based – as you might guess – in London. This means it's a sensible focus for those of us in the UK who want to influence the insurance industry.
A range of organisations have got involved in the campaign, taking different approaches to convincing those who set policies on insurance within the Lloyd's market to change their practices.
Mothers Rise Up, a group of mums worried about the future, have used humour and creativity to get their message across in unexpected ways, including dancing, props and music. Most recently, they sent the Chairperson of Lloyd's of London, a dad and keen cricket fan, a Father's Day card alongside cricket-themed gifts that asked him to take action.
Extinction Rebellion have held demonstrations outside Lloyd's, locking entrances and scaling the building to drop a banner that reads "End fossil fuels now". Coal Action Network and Ekō have also organized people to email, tweet and call employees of managing agents within Lloyd's, getting the message through to everyone involved in the industry.
Alongside creative action and employee engagement, other organisations have been doing important research and policy work, such as Reclaim Finance, who wrote a report comparing the top 20 managing agents in the Lloyd's market. It found that only a small proportion of managing agents followed Lloyd's guidelines on fossil fuel insurance, and even those guidelines do not go far enough.
Between them, these actions have led to meetings with senior Lloyd's leadership, and to some groups within Lloyd's ruling out particular damaging fossil fuel projects or updating their own policies on fossil fuel insurance. But the industry is complicated, and it will take all kinds of work from all kinds of groups to persuade those within the industry to take the right steps.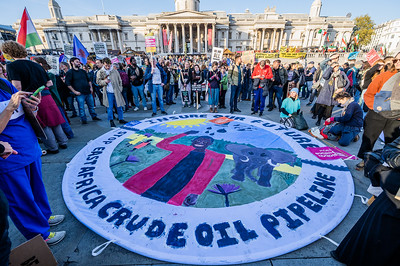 A Quaker approach to the insurance campaign
Quakers live by the testimonies of truth, equality, peace and simplicity and sustainability. For my work at Quakers in Britain, these testimonies mean that we take a climate justice approach, recognizing the unequal causes and impacts of climate change. It also means our methods of creating change often draw from nonviolent approaches, trying to build relationships with the people behind destructive decisions while we condemn the harm they cause.
Until now, the groups working on the insurance campaign have not included faith groups. When we decided to get involved, it was with a sense of curiosity about what our perspective could bring to the campaign.
So what have we done so far? We've taken a few approaches. In February, we wrote an open letter to Lloyd's in partnership with African Quakers to highlight the damaging potential of the proposed East African Oil Pipeline, a project that some insurers have already ruled out insuring. We followed this up in April with a letter signed by 24 UK faith representatives reiterating our hope that Lloyd's of London would adopt better fossil fuel policies.
Our letter was published in the Times, alongside an article discussing the wider movement on climate finance. This kind of media coverage hadn't been achieved for the campaign before, so it was an exciting example of how faith communities can reach platforms that might not normally be open to a climate message.
We've also engaged directly with some of the managing agents that operate within Lloyd's, using shares loaned by Share Action to allow some brave Quakers to attend AGMs where they asked leaders about their fossil fuel polices. We're hoping this can be the start of a conversation with those who have the power to change things from within.
Finally, we've been meeting in small groups to help British Quakers understand the insurance industry, and having discussions about how they want to get involved. These meetings have also been a way for African Quakers to join and share their perspective. As we learn more about the insurance industry and how we can be effective as a faith community, I'm hoping these groups will be able to inform the development of resources helping more people of faith take action.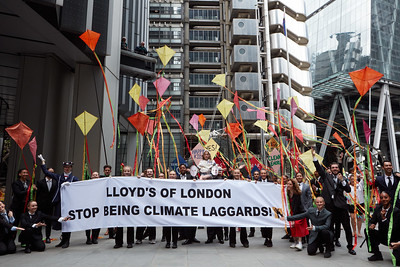 What faith groups can do
One of the things that's been really important to our action has been recognizing what we as a faith group can uniquely bring to the campaign.
Our international faith links have led us to act in solidarity with those who stand to be most affected by fossil fuel projects, while our connections with other faiths in the UK has allowed us to present a unified multi-faith message far more powerful than the involvement of any one faith group alone could have been.
We're also lucky to be in contact with Quakers across the UK who are already taking amazing action on climate change. Many faith communities are full of passionate people like this who are led by their faith to take action. But you don't need to be a super experienced activist, a member of a huge network or a confident spokesperson to help with this campaign. There are new ways to get involved all the time. We'll be exploring the campaign in more detail at our webinar on the 11th July, so come along to find out how people of faith can change financial institutions and support the shift to renewable energy.