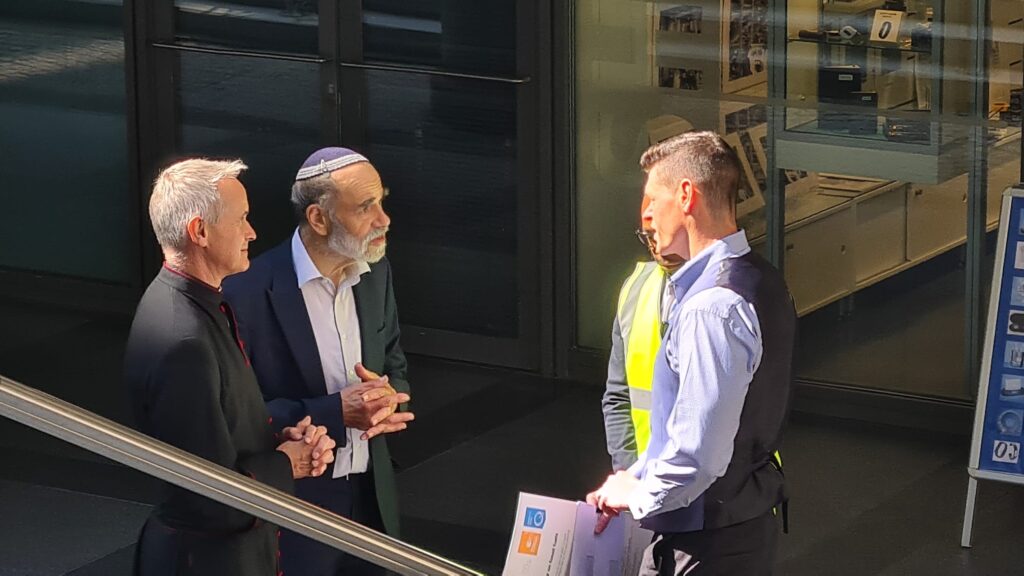 Canon Giles Goddard and Rabbi Jonathan Wittenberg being received by a representative from Lloyd's of London.
Photo credit Shanon Shah.
Faith for the Climate joins faith gathering outside Lloyd's of London headquarters praying for climate action
Ahead of the launch of Lloyd's of London's new ESG strategy, Faith for the Climate joined members of various faiths together in worship outside the Lloyd's headquarters. The group gathered to hand in a letter asking that Lloyd's stop offering insurance to new fossil fuel projects.
The letter, originally sent to Lloyd's in April, was signed by 23 faith leaders. It highlighted the assessment of the International Energy Agency that under a 1.5 degree scenario, there can be no new coal, oil or gas development, and called on the insurers involved in financing the global energy sector to support a rapid transition to renewables.
Despite repeated requests for an acknowledgement, Lloyd's has not yet responded to the letter, and there has been no indication that their upcoming ESG strategy will contain any new commitments on the phase out of oil and gas insurance.
Those gathered at Lloyd's of London to request a response represented many of the UK's most populous faiths, including Christianity, Islam, Hinduism, Buddhism and Judaism. Rabbi Jonathan Wittenberg and Hanuman Dass led the group in interfaith prayer, followed by a silent worship.
The faith gathering has been timed to kick off the Global Fight to End Fossil Fuels weekend, a global mobilisation demanding a rapid, just and equitable end to fossil fuels. As an insurer of many of the world's new fossil fuel projects, Lloyd's must change its policies if they are to remain in line with limiting global heating to 1.5 degrees.
Global Fight to End Fossil Fuels – September 2023 (fightfossilfuels.net)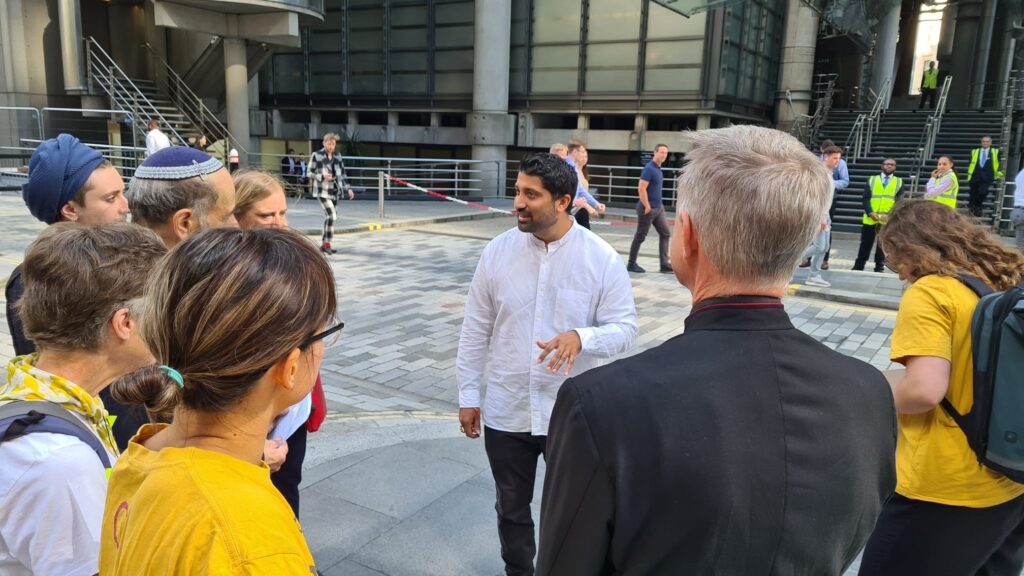 Hanuman Dass of GoDharmic shares a prayer with faith leaders at the Lloyd's handing.
Photo credit Shanon Shah.