London faith communities connect and act together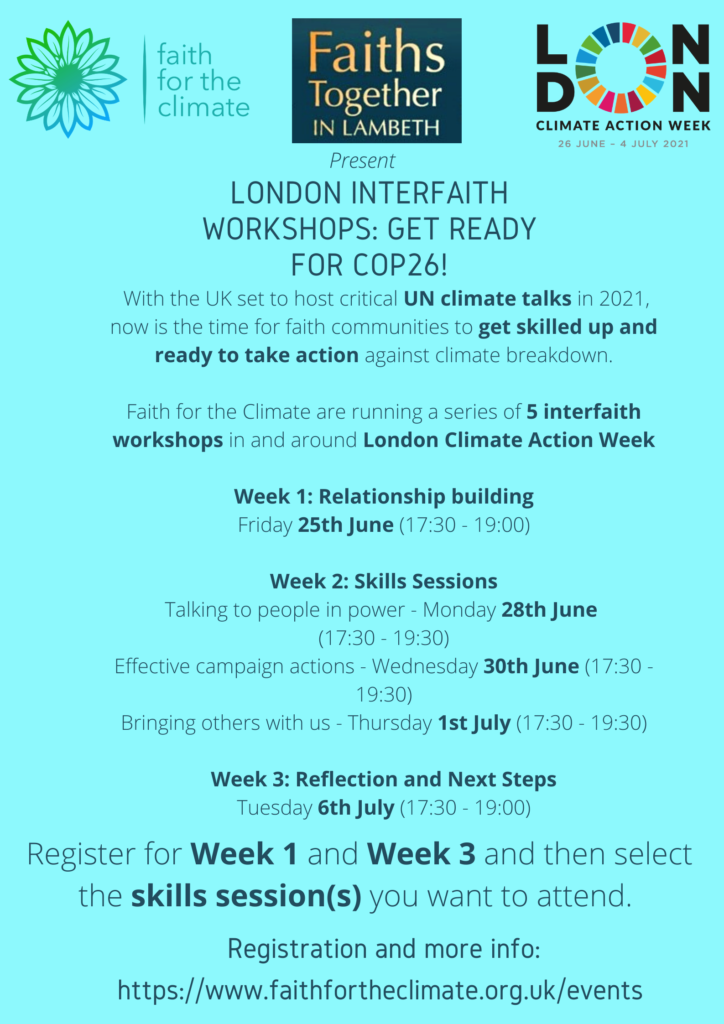 This July, we're proud to feature a reflection by our movement builder, Rosh, on our recently concluded interfaith climate justice workshops during London Climate Action Week (26 June-4 July 2021).
OVER THE LAST FEW WEEKS, I have had the pleasure of delivering climate action workshops as part of our movement building work in London. I worked with our partners at Faiths Together in Lambeth to deliver two sessions specifically for the South London boroughs of Lambeth and Southwark, as well as working with Christian Aid, Islamic Relief UK and Quakers in Britain to deliver skills workshops as part of London Climate Action Week.
With the UK hosting the next UN climate talks (COP26) in November, I wanted to gather members of different faith communities around a common concern for our planet and to celebrate the unique role that faith groups can play in the climate crisis. The aim of the sessions was to connect as communities of faith and learn new campaign skills together for effective action. And I hoped to find creative ways to work together for climate justice that reflect the universal principles of all faith communities: compassion, care and living your truth.
Delivering these workshops over the course of 3 weeks was a reminder of the joy of communing and being vulnerable with others. The insight and commitment of our participants and guest speakers was mirrored in the collaboration of our interfaith organising team. Jess Hall, one of my fellow workshop organisers from Christian Aid, said:
"The climate justice movement needs everyone and that includes people of faith! It was great to connect with people who are passionate about tackling the climate crisis and to be part of building up the skills we need to campaign for climate justice".
These workshops were designed to bring out the best within all faith traditions, and that spirit suffused the interfaith spaces held by our participants. Everyone who attended, despite coming from different contexts and parts of London, shared a universal desire to act for climate justice.
We also heard from local faith leaders in South London about the links between their faith tradition and climate action, as well as the unique role each leader sees for faith communities in preventing climate breakdown. You can watch these introductions below:
Imam Sayed Raziwi speaking about Islam and climate action
Rabbi Mati Kirschenbaum talking about Judaism and climate action
Faith communities have so much wisdom, courage and hope to bring to the movement – I, personally, was moved by the deep sense of commitment our participants have, not just to their own communities, but for all who call our planet home. The love for creation demonstrated by our participants was humbling. It's a love that transcends borders or categorisation. It is a love that is a consistent challenge to raise our own ethical commitments, and was a reminder to me that to live honestly and with integrity is a life's work.
The reflections from participants really highlighted how much people enjoyed building relationships and having the space to share their concerns and priorities for climate action:
Reflections from participants at the workshops:
"Meeting, talking with and hearing from other people about their experiences is inspiring – truly it breathed new life and energy into my own passion for the care of the environment. Hearing people's comments was a useful reminder that many people are at very different stages along the path towards awareness of the impending severity of the climate crisis. It can be easy to assume everyone thinks the same as oneself."
Judith Russenberger, East Sheen
"I was grateful to learn about the Southwark Diocese prayer vigil for the success of the COP26. As a result, we have agreed to go on a pilgrimage as a church to Southwark Cathedral."
Tom Stanbury, Streatham Hill
*"It was such a warm and welcoming series of events – which is extremely hard to achieve over Zoom! I left feeling part of something bigger and really enjoyed meeting other people who are passionate in a different way."
Reverend Dr Sharon Moughtin, Southwark
Where do we go from here? People of faith have a unique contribution to make in the climate crisis. In a discourse that can often get bogged down in policy detail, and sometimes cynicism, people of faith can speak with a moral clarity about those who are most adversely affected by climate and ecological breakdown. They can draw on values that unite all faiths – of compassion for the marginalised, and a hope for a more caring civilisation, to foreground the moral urgency of the need for transformation.
Interfaith action is also symbolically powerful. I hope that the workshops held a space that allowed new connections to blossom and for relationships to build. We must continue with the long work of building our movement, broadening our coalitions and advocating for climate justice, be it at the local, national or international level. The ways we do that are manifold, and this series of workshops has been a modest contribution to building the wider climate justice movement in London.
If you have any ideas about interfaith climate action that you would like help bringing to life, please get in touch with me at [email protected] and I will try my best to support, facilitate and promote it.
One of our participants, Tom, emailed me after attending one of the workshops to share this song by Patti Smith, "People Have The Power", as it reflected how he was feeling after attending. I think it sums up beautifully what we can achieve when we work together. Together we are powerful. Individually we may be drops in the ocean, but "What is any ocean but a multitude of drops?"
Rosh Lal – Movement Builder, Faith for the Climate, 21 July 2021