National Inter Faith Week 2019 climate actions increase significantly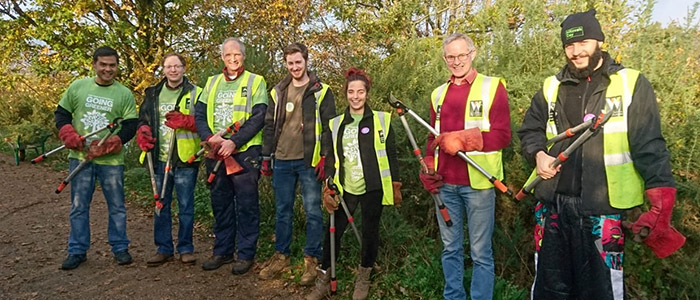 National Inter Faith Week 2019 sees climate action increase significantly.
The 2019 Inter Faith Week (11-17 November) saw many more climate change and environmental activities compared with previous years, reflecting the growth in concern across all faith communities. The jump was so significant that the Inter Faith Network added a new category for these actions on its website, which were previously placed under the label "social actions or social issues". An extra boost was provided by this year's Mitzvah Day "Going Greener" on Sunday 17th November.
Interfaith events on climate change took place all around the country in November, including Faithshare at the University of Lancaster, Towards a Theology of Climate Change at the University of Derby, Faith Leaders and Climate Change at the Leeds Church Institute, and Tread Lightly on This Earth at Shree Ram Mandir in Birmingham, among many others.
Kamran Fazil, FFTC's capacity builder and outreach lead, joined Tearfund, Strengthening Faith Institutions Together, to speak at Lloyds Bank about the climate crisis, focussing on how employees can promote sustainability from within the banking sector; and with the Council of Christians and Jews, Kamran also lead a workshop on how faiths are tackling climate change for students at Manchester University.
Speaking to Faith for the Climate (FFTC), the Inter Faith Network's Development Officer, Ashley Beck, explained that since it began in 2009, the range of organisations participating in Inter Faith Week has grown. This growth in climate focussed events and non traditional partners was reflected in one Mitzvah Day activity that FFTC also had the pleasure of joining. FFTC Chair and founder Canon Giles Goddard, along with Shanon Shah, joined five other volunteers from diverse faiths and backgrounds at the Walthamstow Wetlands to help with practical conservation tasks.
Visitor engagement ranger Alison O'Connor first approached Mitzvah Day as part of the Wetlands' Heritage Lottery-funded project to widen audience engagement. This was the second Mitzvah Day event at the Wetlands and, according to O'Connor, it is getting more popular and she has plans to develop it further.
In its early years, Inter Faith Week activities were mostly organised by familiar faces in the interfaith movement. Now, schools, businesses, local authorities and even sports organisations get involved, which has broadened the scope of activities and events that are offered. "For example, a walk between different places of worship in a particular town is not a new idea, but a student group turned this into a Temple Run," Ashley Beck explained. Students have also organised Speed Faithing events – short face-to-face dialogues about religious diversity, playfully mimicking the format of speed dating.
We are encouraged by the wide range faith-based climate actions within and across faith and non-faith communities, and Inter Faith Week encouraged and showcased the best of these efforts. This, according to Beck, is the Week's unique offering to wider society. It showcases not only new and innovative events but also highlights year-round interfaith work and action, including on climate change, that doesn't normally make the headlines.