Reflections on "Getting ready for COP26": The power of interfaith collaboration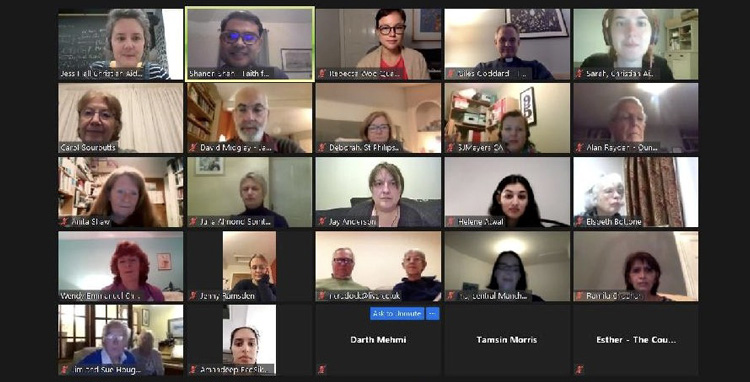 Commonality. Community. Partnership. Three words at the centre of Inter Faith Week (8-15 Nov), and three words that describe the online workshops for the Leeds/Bradford, Leicester and Manchester regions we at Faith for the Climate have just concluded!
With the UK hosting the next UN climate talks (COP26) in November 2021, we wanted to gather with members of faith communities around a common concern for our planet and celebrate the unique role that faith groups can play. We hoped to connect as communities of faith and learn new campaign skills together for effective action. And we hoped to find new, fun and exciting ways to partner and work together for climate justice.
The unfolding of these workshops, week by week, was an utter joy. The generosity and goodwill of our participants and guest speakers was mirrored in the collaboration of our interfaith organising team. Designing these workshops in this manner was a first for each of us, and we each brought the best of our Quaker, ecumenical Christian, Muslim and interfaith sensibilities to the table.
Each workshop was a space of discovery and hope. Over three weeks Zoom lit up with names and faces of people from different faiths and different cities but with a desire to act for the common good and climate justice. We also heard from local faith leaders about the links between their faith tradition and climate action, as well as the unique role each leader sees for faith communities and interfaith networks in preventing climate breakdown. You can catch up on their thoughts by clicking on the links below!
Imam Qari Muhammad Asim MBE speaking about Islam and interfaith climate action
Drishti Mae speaking about Hinduism and interfaith climate action
Robyn Ashworth-Steen speaking about Judaism and interfaith climate action
Faith communities have much wisdom, courage and hope to bring to the movement – it was a joy for us to be part of learning with others and getting ready for climate action.
And because the participants were as much responsible for the success of the workshops as we were, we asked for their reflections too.
LEICESTER
"The workshops were engaging, informative and inspiring. There's so much good work going on out there which Faith for the Climate has highlighted; whilst giving us the tools to help us make a real difference in our local communities."
Avnish Thakrar – Hindu Climate Action
MANCHESTER
"I have been looking for workshops that are more practice oriented and help me to develop my own skills in campaigning for climate change which all three have done. I also liked that they were different in their structure and approach to the topic which seemed to work well for each one. I have been signing up to different newsletters and campaigns, done some research on the internet and taken part in quite a few workshops over the lockdown but have found these three workshops the most helpful."
Ina Vogelsang – Central Manchester Quakers
LEEDS/BRADFORD
"The workshops were run very well to keep a balance of providing participants with information as well as encouraging input via the chat box and breakout rooms. It felt like a faith centred workshop because of the respectful, calm and positive manner of Shanon, Jess and Rebecca. It was a joy to attend all 5 sessions and that can't always be said for such lengthy zoom calls. Time flew by!"
Amandeep Kaur Mann – EcoSikh UK
"Sharing experiences and knowledge in this manner was not only uplifting but also reminded me of joining up with other faith groups and wider parts of society – together we can bring about the collective change we all want to see. One important point the workshops highlighted was that faith brings a different perspective to the climate change debate which is often forgotten, i.e. the concepts of compassion, equality, and social justice."
Dr Jatinder Singh Mehmi – Sikh Alliance Yorkshire
So what next? At so many levels, these workshops have shown the vast potential and spirit that interfaith relations can bring to climate action, and vice versa. We're really proud of the space we all created together during the last three weeks and we're excited to see new connections blossom.
We also want to make the content available for anyone else interested in running interfaith online workshops to connect, skill up and take action against climate breakdown together. If that's you, write to [email protected] and let us know!
In the words of two feminist teachers of Rabbi Robyn Ashworth-Steen "If not with others, how?"
Shanon, Jess and Rebecca
Dr Shanon Shah – Network Coordinator, Faith for the Climate
Jess Hall – Campaigns and Organising Officer, Christian Aid
Rebecca Woo – Campaigns and Advocacy Coordinator, Quakers in Britain