Synagogues across the UK celebrate the first national Green Shabbat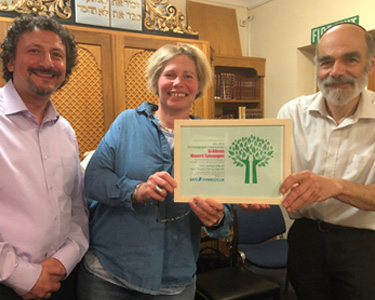 On 7th July Synagogues across the country celebrated the first ever Green Shabbat, organised by Eco Synagogue, and leading up to two more Synagogues achieving their Bronze Eco Synagogue award.
The Jewish Chronicle dedicated a four page spread to the Green Shabbat, with articles from the Chief Rabbi Ephraim Mirvis, alongside other leading Rabbis , a young Jewish person's perspective on the climate crisis, and a piece by one of the founders of Eco Synagogue, Dr Laura Miller.
Among the many Shul marking the Green Shabbat, at Kol Nefesh, Ezra Sharpe, one of Kol Nefesh's youth, gave a powerful and eloquently delivered drash about climate change that had the whole Shul engaged and awed; and at the Lincolnshire Jewish Community immediately after kiddush the community decided to hold Green Shabbats on the first Shabbat of EVERY month.
Kingston Liberal Synagogue reported: "We had a screening of David Attenborough's 'Climate Change: The Facts' followed by Chaverah. Discussion afterwards covered what we can do as individuals and as a community. We've already transformed an unused space in our synagogue grounds into a wildlife haven with water butt and composter, and swapped plastic Kiddush wine glasses for glass ones, but we still have plenty of work to do."
The image shows the Bronze Eco Synagogue Award being presented to St Albans Masorti Synagogue by Rabbi Jonathan Wittenberg on 9th July at Muswell Hill United Synagogue.
Many congratulations to everyone involved in achieving their Eco Synagogue Awards, and pioneering and celebrating the Green Shabbat.