The Time is Now for a cleaner, greener world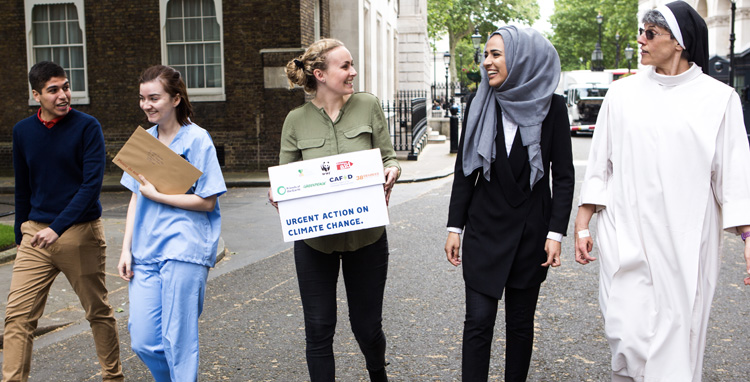 This September, as a member of The Climate Coalition, Faith for the Climate is pleased to feature this guest contribution by Jasmine Vorraso, Campaigns and Communications Assistant, on the Coalition's campaigns for a green economic recovery. We hope you are inspired to support these actions – and please spread the word!
The effects of climate change and nature degradation are being felt more than ever before across the globe. People from all walks of life and communities are experiencing life-altering impacts.
The time is now for everyone to work together to push for climate action.
Faith communities and organisations, including Faith for The Climate, have been a big part of The Climate Coalitions' campaigns to push for climate action from the government and now, for a green economic recovery from the current crisis. Last year a UK Net Zero Emissions Target was signed into law, after letters from MPs, community leaders, faith leaders, and a 750,000 strong petition were delivered to Downing Street. We also worked together and made history with the biggest mass lobby for climate, nature and people in 2019, and then again this summer with the first ever virtual mass lobby of parliament with 200 MP meetings taking place on the day.
This Autumn the government is making crucial decisions about how to rebuild the economy. We know that building a strong, resilient economy goes hand in hand with tackling climate change, so we need to make sure the government sees the groundswell of support for a green and fair recovery package.
That's why The Climate Coalition is bringing people together to raise our voices again, in support of a cleaner, greener future, and we need the help of faith organisations. Faith groups play a crucial role in spreading the word about how we can help combat the climate crisis to whole communities. We need as many voices coming together as possible to make a real impact – here's how you can get involved!
There are two things you can do right now to help keep climate action on the Government's priority list and to push for the delivery of a green economic recovery.
Sign the Declaration
Our declaration is an open letter to Prime Minister Boris Johnson. We're bringing together people from all walks of life with businesses and community groups to say #TheTimeIsNow for a cleaner, greener world that works for everyone.
Tell Rishi Sunak We Need A Green Recovery by contributing to the Treasury's Comprehensive Spending Review
This Autumn the government is making key decisions on how we recover from the current crisis. And we have the chance to shape them. Through the Treasury's Comprehensive Spending Review, you can have your say on how the government should spend our money.
We've developed a tool to make this straightforward. We've crunched the numbers and written the technical, policy bits for you. So all you need to do is choose what you care about, add some personalisation, and submit it..
What we're calling for
Behind these actions are a set of core green recovery asks that have been developed by the Coalition, focusing on different aspects of society to ensure a green recovery works for everyone.
We need the government to unleash a clean energy revolution, by building and retrofitting homes for the future, investing in a clean transport system and harnessing the power of renewable energy. We need to protect, restore and grow green and wild spaces, to benefit people and wildlife. And finally, we need to protect the most vulnerable against the effects of climate change, both at home and abroad.
Pressuring the government for increased climate ambition and action can seem daunting and a tough challenge at times, but we know when we come together, we can make a big impact.
The Time Is Now to take action to protect what we love from the worst impacts of the climate crisis. Sign the declaration, share it with friends and family, and let's call on Boris Johnson and the UK government to create a cleaner, greener world for everyone.