The Time is Now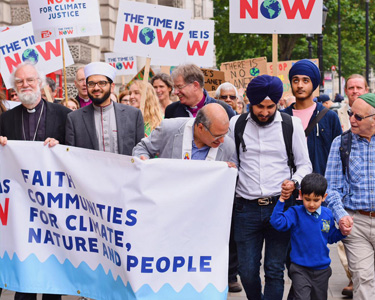 On 26th June, people of many faiths came together in central London to call for urgent climate action from Government, ahead of the largest ever mass lobby of Parliament, The Time is Now, organised by the Climate Coalition and Green Alliance.
400 people attended workshops equipping people of faith for climate action at St Martin in the Fields, hearing from faith leaders, community activists, NGO experts and sharing ideas and inspiration across faith communities. One workshop heard speakers from Christian Climate Action, XR Jews and the Dharma Action Network for Climate Action about their faith inspired action as part of Extinction Rebellion; another heard from Kamran Shezad and Maria Zafar about how the Bahu Trust and Islamic Relief have engaged Imams for climate action, drawing out wider lessons for other faith communities; other workshops focussed on engaging faith communities in lifestyle change; faith based action as part of the global divestment movement; Eco Church and Eco Synagogue; Eco Sikh; and the actions taking place around the UK in June for Buddhist Action Month.
1,000 people of faith then gathered with faith leaders from many faith communities across the UK on the steps of St Martin in the Fields, for a Walk of Witness along Whitehall towards the House of Commons.
Addressing Sky News at the start of the Walk of Witness, former Archbishop of Canterbury Rowan Williams said "Climate change presses hardest on those least able to adapt, the most vulnerable communities. We must not let the poorest communities in the world carry the cost."
Also speaking ahead of the Walk of Witness, Rev Giles Goddard, Chair of the Faith for the Climate Network, was interviewed along with Qari Asim MBE, by the Christian Muslim Forum.
The Walk of Witness culminated in an interfaith Speaker Event packed to capacity by 900 people at Church House in Westminster, where we heard inspirational contributions from Christine Allen, Director of CAFOD, Qari Asim MBE, Chair of MINAB, former Archbishop Lord Rowan Williams, Quaker school striker Anya Nanning Ramamurthy, Buddhist teacher Vishvapani, and Rabbi Jonathan Wittenberg.
Inspired by all these wonderful speakers, people went out to join the largest ever mass lobby of Parliament, meeting their local MPs on every pavement around Parliament.
It was fantastic to see so many people of faith come together, to add their voices to the wider lobby, and to each make their distinct and distinctive contribution as people of faith, to the wider movement.