Faith-based resources connecting climate justice and Black History Month
October is Black History Month in the UK, and it has been celebrated nationwide for more than three decades. It began because of a need to recognise the contributions that people of African and Caribbean backgrounds have made to Britain from past to present.
This year, Faith for the Climate is showing solidarity with Black History Month by co-hosting a series of events with St John's Church in Waterloo, London, as part of the Exploring Spirit "interfaith season of arts, film, reflection, talks, worship, prayer and meditation which will bring together nature, the climate crisis and the spiritual journey".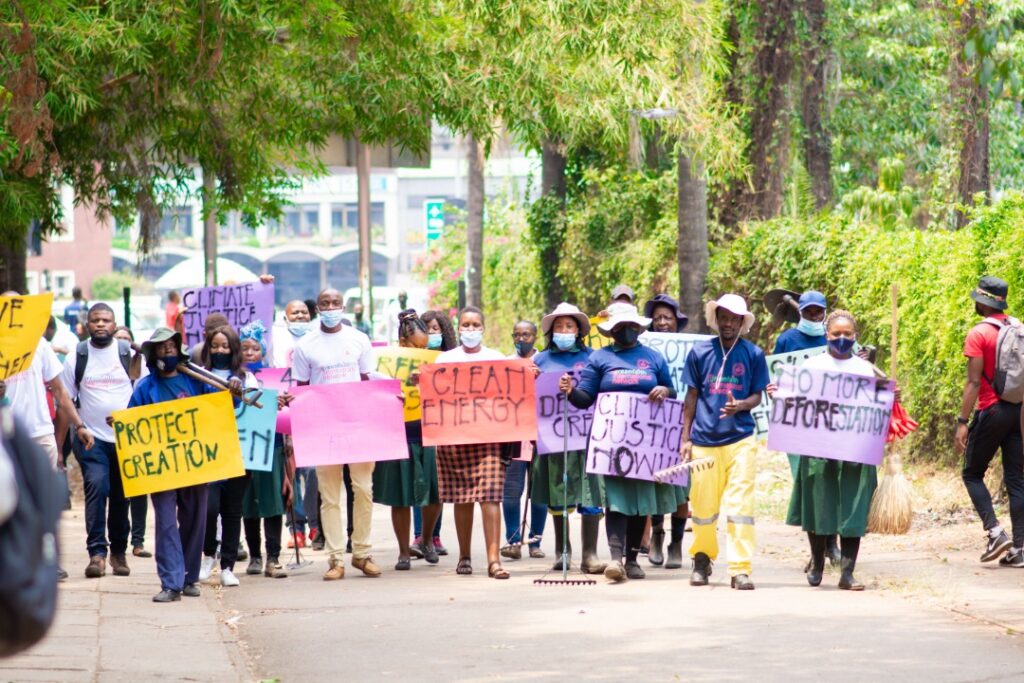 Zimbabwe mobilisation for Faiths 4 Climate Justice, 17 October 2021 (pic: Greenfaith International)
On Thursday, 19 October, we will be screening Can I Live? – a film that follows actor-activist Fehinti Balogun's personal journey as a Black British man exploring his relationship to the climate crisis and posing questions about his role to tackle it.
This will be followed by two events exploring the relevance of Dr Martin Luther King's legacy on climate justice today.
On Sunday, 22 October, we will be hosting a special live reenactment and discussion about Dr Martin Luther King's Christmas sermon, exploring its themes of racial injustice, colonialism, and militarism.
On Thursday, 26 October, we will be screening King: A Filmed Record…Montgomery to Memphis – a monumental documentary that follows Martin Luther King from 1955 to 1968, in his rise from regional activist to world-renowned leader of the Civil Rights movement.
In keeping with this year's Black History Month theme, 'Saluting Our Sisters', we will use these screenings as an opportunity to reflect critically on the intersections of gender, race and class in climate justice advocacy.
To register and find out more, go to our special Events page.
At Faith for the Climate, we have previously commemorated Black History Month by highlighting the intersections of racial justice and climate justice. In 2021, we did this by organising UK-based actions during the global Faiths 4 Climate Justice mobilisations.
Last year, we held a special screening of The Ants and the Grasshopper, the acclaimed film by Raj Patel and Zak Piper that "weaves together the most urgent themes of our times: climate change, gender and racial inequality, the gaps between the rich and the poor, and the ideas that groups around the world have generated in order to save the planet".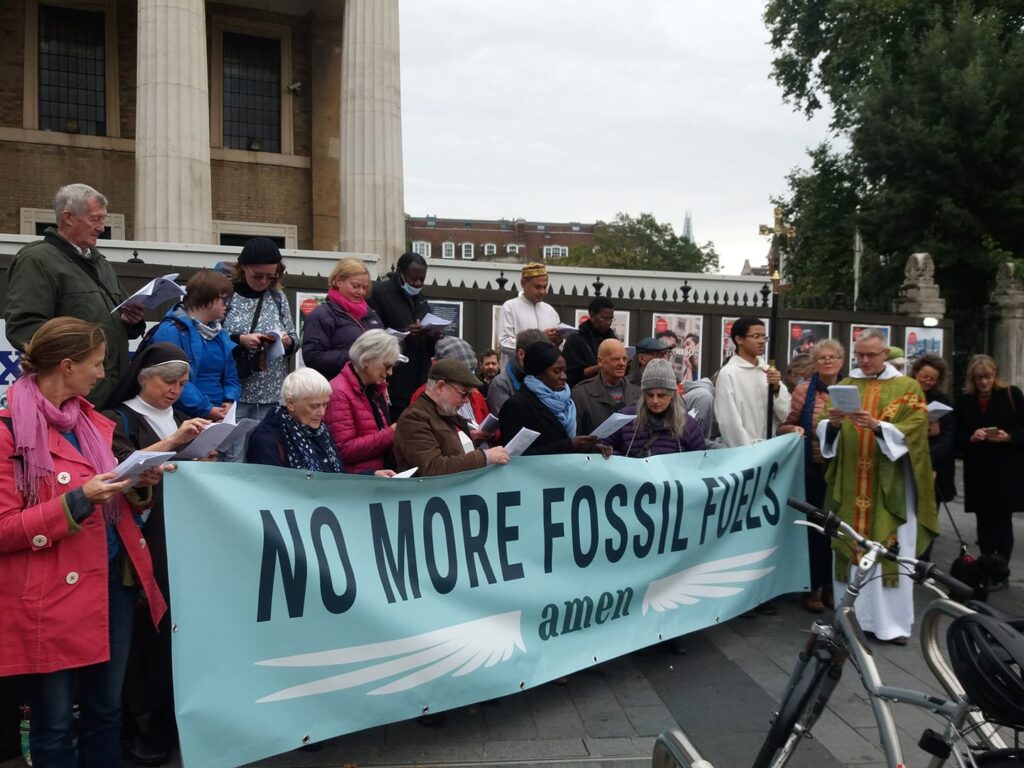 Faiths 4 Climate Justice at St John's Waterloo, 17 Oct 2021 (photo credit Rebecca Boardman).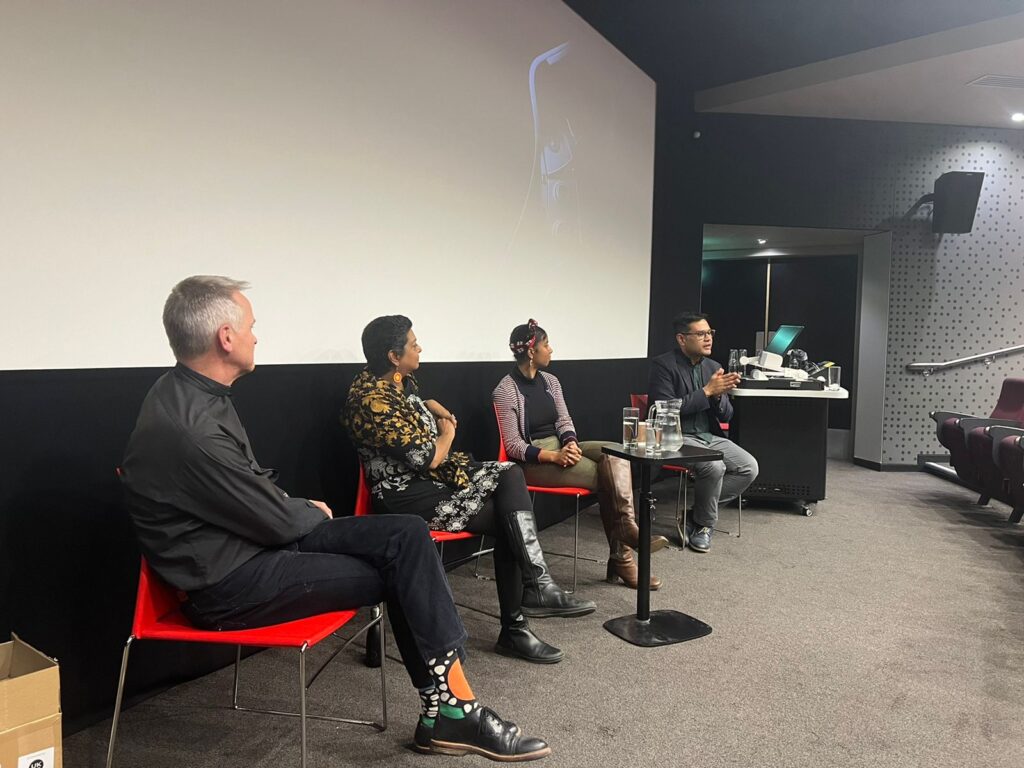 At the screening of The Ants and the Grasshopper (24 Oct 2022): Left to right: Canon Giles Goddard (Faith for the Climate), rehena harilall (Buddhists Across Traditions), Lydia Hiraide (Goldsmiths College) and Dr Shanon Shah (Faith for the Climate). Photo credit: FFtC
From our inception, we have also received support from bigger, more established members to include and involve those who are traditionally excluded or marginalised within climate and/or faith community spaces. One partner, Christian Aid, has recently produced a resource on climate and racial justice in collaboration with black majority churches that we are pleased to promote: 'Our Prophetic Journey Towards Climate Justice'. Here's Christian Aid's introduction to the resource:
Climate change, although something which will affect us all, is a deeply racialised phenomenon.
As highlighted in Christian Aid's landmark Black Lives Matter Everywhere report, black and brown people in Africa, the Caribbean, India and other parts of the global south are facing the brunt of the impacts.
In the UK, 50% of black Christians think that the environmental movement isn't racially diverse enough, and are keen for their churches to stand up for justice. We brought together a group of senior church leaders and climate activists from black majority churches and co-developed a range of resources.
These resources provide insights into the distinctive contributions of diverse voices on climate justice. We hope they will inspire equip black Christians to take action on climate justice.
This is just one example of the great work being done within our network, and we hope you find these resources useful and inspiring. If you have any faith-based Black History Month resources or actions connected to climate or environmental justice that you would like to share, let us know.

3 October 2023